There are a lot of critters in these hills. And some people may think I should stop calling them critters. But whatever you call them, as a whole, they're here, they're interesting, and they're what this section is about.

An Ozark Critter List:

Mountain Lion Felix concolor
Bobcat Lynx rufus

White-tailed deer Odocoilus virginianus

Red Squirrel Tamiasciurus hudsonicus
Gray Squirrel Sciurus carolinensis

River Otter Lontra canadensis
Striped Skunk Mephitis mephitis
'Possum Didelphis virginiana

Nine-banded Armadillo Dasypus novemcinctus

Nine-banded Armadillo (Dasypus novemcinctus)

Length: head and body, 15-17.5 inches; tail, 13-15.5 inches.
What to look for: bony plates on body, tail, and top of head; large ears; long, squarish snout.
Habitat: brushy or rocky areas; forests (pines in East).

— page 44, Wernett, Susan J., et al. North American Wildlife. The Reader's Digest Association, Inc., 1986.




Above right, an excerpt from the Ozark Marketplace mural by George Kieffer. It is located in Silver Dollar City.

Kieffer is remembered by some as one of the greatest of Ozark artists.

It is with great appreciation that some of his work is preserved on the pages of State of the Ozarks.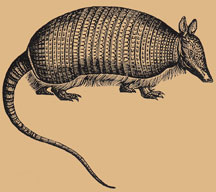 (TOP) 02/21/09, Whitetail Deer. Photo credit, J. Heston. Location: Maramec Spring Park, St. James, Missouri.

(ABOVE) 9/30/06, Squirrels & deer, G. Kieffer mural. Photo credit, J. Heston. Location: Silver Dollar City, Missouri